As I was flicking through the numerous camera apps on Day One of my new phone (the Lumia 1020 from Telus comes with at least five apps that indicate some ability to take pictures either via their icon or name), I came across ThemeStream.
How did it get here?
Being neither included with the OS nor a Nokia or TELUS app, I was a bit confused after launch. There's no splash screen, logo or anything to tell you the app comes from Black's. Not even the welcome screen gives you much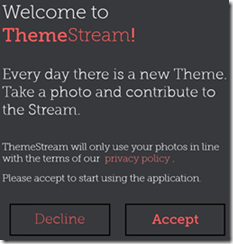 information.
I can see from visiting their webpage that TELUS is a partner, so perhaps both companies could have worked on educating the user as to why this app is on their phone. The app isn't even listed on the Nokia Canada page (although Black's is listed as a partner on the main phone page)
Viewing the privacy policy, though, brings another annoyance.
Phone Screens are Still Small
Both the Privacy Policy and Terms of Use links load a web browser that shows Black's webpages – designed for someone on a PC.
Since everyone's viewing this post on different sized monitors, it's hard to accurately convey the experience but it looks something like this.
Why not either:
Introduce adaptive CSS for mobile devices on those pages?
Download the data from those pages (include a JSON query format string perhaps) and then render the text using a built-in control?
Quality Control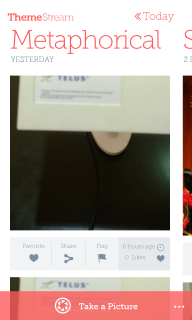 I can appreciate that they want to maintain a level of anonymity for submitted pictures (although that removes any hope of creating leaderboards, or recognition for good photographers) but surely a quick algorithm could detect a picture being double-submitted?
Scrolling through the last couple weeks, you can see many examples such as the one to the right. I'm not sure if it's a bug in the client application or on the server, but it should be easy enough to detect duplicates.
Conclusion
A tiny bit more functionality and some polish could really help this app. The UI certainly makes good use of Panorama control, but how about adding some user-based curating for the pictures, an ability to see who's submitting photos, and fixing a few very small (but easy) bugs?
Interested in learning more about developing for Windows Phone 8? Enter your information to receive e-mail notifications on relevant articles.